| | |
| --- | --- |
| | High-Impact Graphics |
Re-vamp your existing vending areas and vending machines with our high-impact graphic kits. We offer a variety of graphic solutions, custom-tailored to your branding, designed by the best artists in the industry.
From numbered machine labels to front glass graphics, replacement slide-in panels to new dimensional machine toppers with integrated lighting, we have you covered.
We also offer full-service complete vending area design and fabrication solutions, made to order, delivered to your job site.
High-impact graphics increase sales, promote specialty snack programs, and assist in renewing your contracts by beautifying vending areas.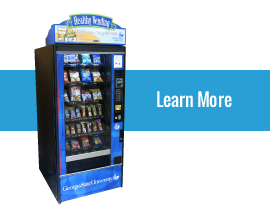 | | |
| --- | --- |
| | Software Solutions |
We have developed a Database of Nutrition Facts to meet the upcoming FDA requirements for "posting before purchase." We offer additional solutions that allow you to collect consumer feedback, request refunds, and other advanced tools.
Take your company to the next level.
You may take a brief tour of our online database of vending products - for free. The demo is limited to a variety of products that include typical snacks, healthy snack alternatives, and specialty items.
We will gladly customize your package to reflect your inventory with a cost-effective means to better the user experience.